As any good horseman knows, sound feet are a vital for a sound horse. Led by renowned farrier Nigel Perrott DipWCF(Hons), this module will look closer at the
biomechanical forces placed on the hoof and the affect overgrown, poorly shod or imbalanced hoof has on the rest of the horse's musculoskeletal system.
Students will be educated in different methods of shoeing and assessment of the shod hoof.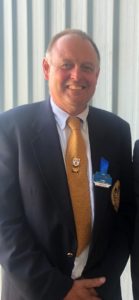 Nigel Perrott Dip WCF(Hons), severed a four-year apprenticeship and qualified in 1982. He has run his own business in Somerset England since then shoeing mainly hunter, eventers, endurance ponies & "happy hacks". He has competed successfully in major shoeing competitions both at home and internationally and was a member of the England Shoeing Team for three years. He has won and been placed at many open county classes and received Worshipful Company of Farriers Best Shod awards at major international events. He is on the Worshipful Company of Farriers list of approved judges.
His work involves shoeing endurance ponies for races around the world for clients, including the Irish Team at the World Equestrian Games, eventers at all levels, including HIS Senior Team and locally hunters and hackers. He has supported the Irish Senior Event team since 2010 accompanying them to European, World and 2 Olympic Games. With Tokyo in planning.
Recently he has added the Werkman Black Gait Analysis system to his business which measures landing, stance, breakover and stride length. This enables farriers to alter shoes and shoeing programs, working with vets & physiotherapists to gain top performance and longer working life of the horse. www.werkmanblack.com
Nigel has trained four apprentices and now organises workshops and clinics for farriers and apprentices to continue their professional development. These include live shoeing, shoemaking and knife making.