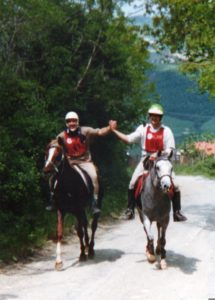 Davide Focardi's love of horses began on his family's farm in Tuscany, Italy. His childhood pastime quickly progressed into a more serious career and Davide began competing successfully in showjumping and endurance riding up to international level.
After qualifying as a riding instructor in 1993, Davide spent the following years teaching, competing and managing equestrian centres, first in Italy and then, following his move in 1999, in Ireland.
"Like many horse riders, I often had a sore or lame horse for which the veterinarians did not have an appropriate explanation or proper solution. This motivated me to embark on my own research and led me into my journey in Alternative and Complementary Medicine. To my delight I discovered that my techniques not only provided relief from physical ailments but also dramatically improved performance in otherwise sound animals."
Davide began to actively study and practice traditional physiotherapy and chiropractic methods in association with recognised Chinese and Japanese therapies. As most equine manual and physical therapies originate from human therapies, Davide began his education in alternative and complementary medicine by working with human patients, before applying his knowledge to equine athletes. Unsatisfied with merely accepting the explanation for established methods, and acknowledging the diversity of equine disciplines and associated stresses, he furthered his education by engaging in detailed equine biomechanics and equine anatomy courses to truly understand the functioning body. With a sound basis of knowledge and experience in recognised techniques, he then spent several years developing and perfecting his own techniques, which to this day have been tried and successfully proven on thousands of horses. It is the evidence-based results that support the methods of Davide Focardi and his unique therapy has been widely recognized by his peers.
From over 20 years of hard work and dedication, and a deep love of horses, Focardi Master Therapy was born.
As word spread, so did his success, with more and more top riders and trainers, and even vets, seeking him out to treat their horses. Today Davide Focardi is one of the most successful physical therapists in business and treats top competition horses in showjumping, eventing, dressage and racing.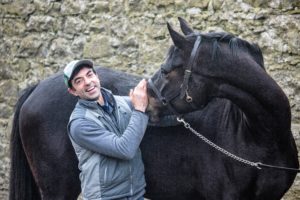 Read Roisin Sheridan's 'The Focardi Way' in The Irish Field
Read Emer Bermingham's 'Advice from the leading experts' in The Irish Field