Trina Maguire, Co. Cavan, Ireland.
 Qualified as FMT Practitioner in 2012.

Growing up on my family's farm in Cavan it was obvious from a young age that I had a strong love for animals. My father would find me sitting with the sick calves, rubbing them and hoping that my touch would heal them. As I matured my passion grew for horses, particularly the youngsters who I enjoyed breaking and training up to amateur showjumping level. When their initial training was complete I would sell them on and start again with a fresh group of youngsters.
After school I completed a BSc(Hons) in Equine Management with Enniskillen college and following that I qualified as a riding instructor from Brennanstown Riding School. I was fortunate to get an excellent job in Drumcoura Equestrian Centre where I worked for 5years. During this time I continued to break and ride young horses however I often had a concern as to whether a horse was just being difficult and bold, or whether they were in pain and not coping with the pressures placed upon them. After trying several 'backmen' a friend recommended Davide Focardi. Once I saw Davide work and the results that he achieved, I immediately knew that was what I wanted to do. I applied for his course and was thrilled when I was chosen out of 6 people who made it to interview stage.
To this day I am deeply grateful for everything that he taught me. Davide has an amazing gift for treating horses and I feel so fortunate that he decided to share it with me. FMT has given me a great career with the horses that I love but most importantly to really make a difference to their wellbeing. I now possess the skills and techniques to effectively treat stiff and sore horses and I am fortunate to be able to make a career out of a childhood dream. Due to my growing Young family I have had to reduce my hours but fortunately my job allows me to be flexible and to fit in working when it suits me and my family. I know that when I work, I am making a difference to the horses I treat and that's what's important to me.
I will be forever grateful to Davide for giving me this opportunity and the encouragement and support he gave me throughout my journey from student to business owner.
Susanne Hehle, Co. Leitrim, Ireland
  Qualified as FMT Practitioner in 2016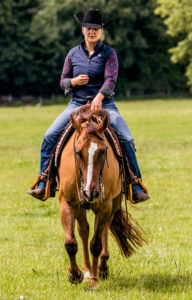 As a child I always had a keen interest in horses and started riding when I was 8years old, shortly after moving from Austria to Ireland. During the 1990's my
parents owned an equestrian centre in Co. Leitrim, and there I gained a wealth of experience in equine management, training and breeding. Following my leaving certificate I studied Interior Architecture and Design in Sligo Institute of  Technology and afterwards worked for several years as an Interior Architect and Architect Technician. Despite having a good job and riding and competing my own horses, I still had a strong desire to work with animals.
When my own horse started displaying signs of discomfort under saddle, I contacted Trina Maguire and was just amazed at how my horse responded during and after the treatment she administered. I became curious about her technique and where she trained, and it was then that she told me about Davide Focardi and his school. I immediately contacted Davide and was fortunate enough to start his course that September.
Davide is a great teacher and I found his course lectures and practical tuition really informative and inspiring. Despite thinking that I understood horses, Davide presented such a clear explanation of the  biomechanics of the horse that I fully comprehended the stress and strain injuries that they experience. He then educated me in his Focardi Master Therapy so that I could treat these issues and develop therapy and rehabilitation programs for each individual horse depending on their needs. Once qualified as a FMT practitioner I quickly made it my full time career and I really enjoy it. Not only has FMT given me the ability to alleviate discomfort and musculoskeletal restriction which many horses experience but also my work can help a horse or pony improve athletic ability and performance in their chosen discipline. My day is always interesting and varied as it involves working with horses and ponies throughout all the different equestrian disciplines and travelling around Ireland and Europe, which I really enjoy.
I am really pleased that I changed careers, as this is truly the most rewarding and fulfilling thing I have ever done.
Riccardo Caldini, Florence, Italy
Final Year Apprenticeship as FMT Practitioner.

Despite growing up in the same village in Tuscany, Italy, I only met Davide Focardi when he came to my yard to treat a horse that was becoming increasingly more difficult to ride. I work as a wine oenoligist in one of the best vineyards in Tuscany however I have had horses my whole life and thoroughly enjoy working with them. For me, horses are strong and beautiful, but highly sensitive creatures. Due to this I am attentive not to physically or mentally overload or stress them during raining, and I believe I achieve better results due to this approach. So when one of my horses demonstrated such a strong dislike to being ridden, I became quite concerned.
Once Davide treated the horse in my yard I was struck by the huge change in form, appearance but most importantly behaviour of the animal. The change was
immediate however the results lasted. This horse had been suffering for a considerable period of time, albeit unknowingly to me, however ignorance was
not a valid excuse. I knew I must learn this technique and I would not allow distance be a limiting factor. Participating in Davide's course has been challenging to fit around my family and my job, however Davide has been incredibly accommodating in organising lectures and practicals condensed to times that I travel to Ireland or when he is working in Italy.
The effort has been worthwhile and, despite not yet being fully qualified, I am already finding the practice of Focardi Master Therapy incredibly rewarding. It
has allow me to address the, often multi-factorial, reasons behind behavioural issues, to relieve discomfort, and return the horse to a relaxed, comfortable and willing creature that it is. I see such a positive response to my work in the horses that I treat that I feel very fortunate to be able to benefit these beautiful animals. More recently I have begun working with professional trotting yards in my locality and the trainers are surprised and pleased at the increase in freedom of movement and pace that my work has done.
I am very thankful that Davide's and my path finally crossed and I look forward to my career as a Focardi Master Therapy Practitioner.